Murder Victims Families of Teen Killers
We are murder victims families of those killed by juveniles. The stories of some of our murdered loved ones can be found on our "Memorials" pages, the heart and soul of this website and organization.
We exist to support and inform each other. We take no organizational stand on what sentences for these offenders should be – case specifics and victims' views vary widely. Such decisions are made by our courts interpreting laws passed by all of us through our elected leaders.
We exist to support the rights of all victim family members to be heard in the process and participate fully as they choose in the criminal justice system. Read more About Us and What We Believe.
RECENT NEWS - Highlights of What Victims Families of Juvenile Killers Need To Know
Join NOVJL on a panel at the Smithsonian in Washington D.C. on June 22, 2013
Citizen's Resource compiles valuable information on psychopathology and how to best prevent violence and evaluate offender sentencing
The Nebraska Legislature advances a bill whose leniency is being debated  as legislators wrangle with the appropriate sentencing range for teen killers
A New Hampshire case is reflecting national trends in offender re-sentencing after Miller ruling
Pennsylvania Supreme Court rules on Juvenile Sentencing
A recent ruling from the PA Supreme Court is victory for prosecutors: the Teague Rule against retroactive application of the Miller ruling applies – no sentences overturned except those still open under direct appeal. The Legislature votes to preserve Life Without Parole sentences as an option for some of the most heinous murderers. And, as elsewhere in the nation, offender advocates' claims about offender numbers are proven exaggerations.
Illinois Legislature Considers Competing Bills
Illinois General Assembly is debating HB 1348 that would retroactively undo any longer juvenile-tried-as-adult sentence. Victims and Prosecutors supporting SB 55 to bring Illinois into compliance with the Miller v Alabama ruling. Download our fact sheet. Illinois Supreme Court agrees to hear the issue.
Iowa Courts debate life sentences

for teen killers

Harvard Journal of Law and Public Policy dissects legal problems in Supreme Court's decisions in Juvenile Killer Sentencing
Smithsonian Magazine publishes our letter
What IS the debate about "retroactivity" of the Miller ruling?
Montana abolishes life sentences for teen killers
Teens continue to commit new horrific murders across the nation, including two young women in North Carolina and a 15 year old young man from New Mexico that has been arrested for murdering his whole family. He used a military-style assault weapon to kill his mother and three younger siblings, including a 2 year old, and then lay in wait for, and murdered, his father – a Pastor who came home from working all night at a homeless shelter. 
Michigan Courts rule on retroactive changes in life sentences
Misinformation has been put out, once again, by offender advocates re: retroactive application of Supreme Court ruling in Miller v Alabama . A Federal Court wants specific cases of juvenile killers sentenced to natural life to get a retroactive shot at release, while another court has ruled that it should not be applied retroactively. Read important letter from Michigan Attorney General explaining the misinformation.

Massachusetts debates JLWOP issue
Victims' families need to be notified, legal authorities disagree about fate of offenders
We sometimes question the choices made by criminal justice reform advocates. They work against life sentences for those who commit some of the worst murders imaginable but they make no effort regarding other more objectionable aspects of our national sentencing realities such as life sentences for non-violent minor offenders?
Juvenile Justice Reform Advocates on NOVJL
An advocate for juvenile offenders finds NOVJL's position hopeful 
Worst Teen Killer in Nation's History "Feels Like Scum"
D.C. Sniper Lee Boyd Malvo hears testimony from a victim's father and says it made him "feel like the worst scum in the world". Profound shame? Entirely appropriate.
California
SB 9 is signed into law by California Governor Jerry Brown. Read who influenced the Governor and who was ignored. See analysis about how SB 9′s retroactivity violates victims rights, will cost taxpayers a fortune, and will endanger the public. Download our packet detailing its flaws. Jan. 2013 – A California Court considers retroactivity of the Miller ruling by the Supreme Court. March 2013 Victims start receiving notices of the new hearings for their loved ones' murderers.
Meeting in D.C. important to victims of violent juveniles
NOVJL's President joins select group of victims rights leaders and juvenile justice reform advocates to discuss the rights and role of victims in the criminal justice system when the offender is a juvenile. The goal is to create a framework for victims in juvenile justice reform. The National Center for Victims of Crime (NCVC) and the Annie E. Casey Foundation co-hosted the gathering. Victims of violent juveniles with an interest in being heard in this process are urged to contact us at NOVJL@aol.com.
Texas Juvenile Violence
Fallen Officer Hero and Teen kills family "just because . . ."
NBC news story on NOVJL
Join the Victim-focused discussion on LinkedIn 
More Aftermath of U.S. Supreme Court on Teen Killer Life Sentences
- Florida court finds Supreme Court ruling can NOT be retroactively applied
- Read our coverage and legal analysis:  Supreme Court Says Life Sentences for Teen Killers Constitutional if Sentence is Optional – No More Mandatory Life
 - Covering the flurry of activity happening all over the nation to implement the Supreme Court ruling. Our concern: Victims families must be included
- Victims' Family Members available to talk to news media in several states
- Join victims who share their feelings at a blogspot site and on Facebook
- Victim's testify at hearings in Pennsylvania
- Iowa's Governor pre-empts appeals by juvenile offenders and commutes them all to life with parole, but only after 60 years. We think its a GREAT solution for Iowans everywhere, and victims voices were heard.
- Ridiculous arguments  being used by some Defense Attorneys after Supreme Court ruling are dismissed by courts.
- NOVJL responds to inaccurate characterizations in a CNN Opinion article.
- Indiana Supreme Court affirms life without parole sentence for teen killer using guidelines established by Supreme Court
- More legal experts agree that the ruling should NOT be applied retroactively except to cases still open under direct appeal.
A Constitutional Amendment for Victims' Rights


NOVJL's primary mission includes advocating for the vital rights of crime victims as they are forced to participate in the criminal justice system. We support the

bi-partisan national movement to include these rights in the US Constitution. 

Call your Congressional Representative now!

Victims Speak
Tom Mauser, father of a Columbine massacre victim, releases wonderful new book Walking in Daniel's Shoes
Polly Franks, nationally recognized victim advocate, releases valuable new resources to prevent being victimized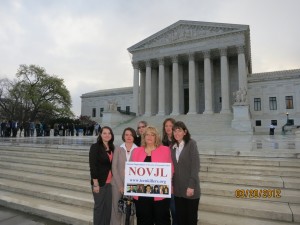 Photo: NOVJL murder victim family members of those killed by teens from all over the nation at the United States Supreme Court during the argument of a case that could free their loved ones' murderers.
NOVJL For Victims Rights and Sound Public Policy Regarding Teens Who Kill
NOVJL exists to support and inform victims families and friends of those killed by offenders under age 18. Given the significant advocacy effort that exists for those offenders, and that gives no information or support to the victims families of these crimes, we found it necessary to organize ourselves. NOVJL is devoted to victims rights and sound public policy regarding teens who kill.
This website tells the true stories of those murdered by teens – truth that is especially important in the face of the willingness of juvenile advocates to minimize and even misrepresent the facts of these horrible crimes. We know there is much to discuss in public policy regarding teens who kill, but good decisions can only be made when the full facts are known.
We advocate for the constitutional and statutory rights of crime victims that exist in all 50 states and federally. We advocate for best possible policies to prevent such tragedies from ever happening again.
We understand the controversy around the issue of teens who kill and the destruction left in the aftermath of those crimes - we have lived it. We understand the powerful feelings that the youthful age of these offenders creates. We understand the problems in our criminal justice system, as with any human institution.  We often do not understand, however, the incredible focus on helping these offenders with no compassion for or attention to the victims they created. The behavior of juvenile justice reform advocates towards the victims families of these crimes during their national policy change push of the last few years has been poor, to say the least. These offenders have committed some of the most horrific murders imagineable. We miss our loved ones horribly.
Help Find and Support Victims Families
There are thousands of murder victims' family members in this nation who are not aware that there is a movement that supports and advocates for teen killers that seeks to change the terms of their incarceration, and often without any notice to victims families.  If you are aware of any victims families of juvenile killers please invite them to contact us. 
You can also reach this website at www.jlwopvictims.org and www.juvenilekillers.org.                                                                                                                                          
Photo: Officer Larry Lasater of Pittsburgh, California, Killed in the Line of Duty by a Teenager Sentenced to Life
"Victims don't want vengeance, they want healing: but there is no healing until justice is done.  And justice is never 'done' as long as the sentence can be undone."  ~NOVJL member



"Those under 18 years old may as a general matter have diminished culpability relative to adults who commit the same crimes, but that DOES NOT mean their culpability is always insufficient to justify a life sentence."
~Chief Justice John Roberts, Concurring Opinion, Graham v. Florida, 2010
"Daniels and several members of his family begged officials to lock up Markus Evans for an extended time . . . [but after Evans only served 14 months in juvenile custody for shooting and almost murdering Daniels, his 7th violent felony by age 15] Evans was released at age 17 with no supervision . . . Evans reported to police he was so angry that he robbed a liquor store and shot the clerk . . .17 year old Jonoshia Alexander . . .was found dead in the alley, shot in the back of her head."
~Milwaukee Journal Sentinel, May 29, 2011